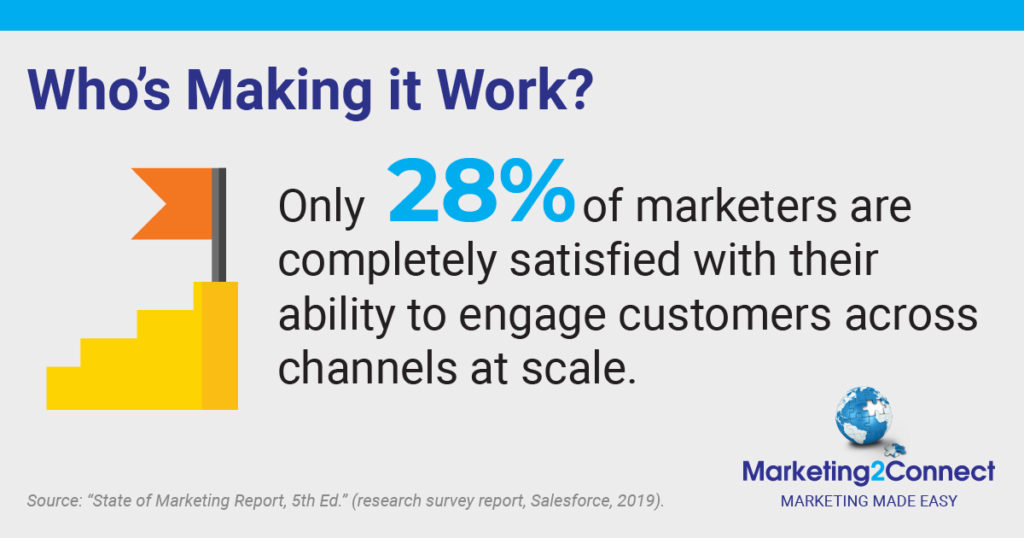 "It takes more tact and precision than ever to attract, acquire, and retain today's savvy customers," says Jon Suarez-Davis, Salesforce Marketing Cloud senior vice president and chief strategy officer. Suarez also notes that 80% of customers say the experience a company provides is as important as its products and services.
In order to meet this expectation, your business needs to employ all your resources across the business. This is a daunting task. But Marketing2Connect can help.
Let's talk about marketing.
Most of us are familiar with direct mail pieces, print advertising and flyers. But in today's marketplace, these are only a few of the marketing channels you should consider for your future campaigns. The most effective marketing campaigns are those which employ multiple tactics ranging from the traditional to the newest trends in digital and social marketing. With more and more emphasis on working remotely, virtual meetings and digital communication, digital and social marketing are playing an increasingly important role in the "attract, acquire and retain" strategy.
Okay, so how do you start?
You probably have a website but is it enough?
Did you know?…
Marketing channels with the highest ROI for lead generation include social marketing, customer communities, and paid search or search engine marketing.
Email marketing, affiliate marketing, and social marketing remain the highest ROI marketing channels for upselling.
Channels with the highest ROI for customer retention include customer communities, email marketing, and social marketing.
Do you need help utilizing these tactics? Marketing2Connect will guide you through the process of creating a digital and social presence. We will develop a multi-level, multi-tactic campaign based on your needs and business model. How are you determining which platforms are working for your business? We can help insure that you are getting the maximum exposure and benefit from your efforts.
Contact Marketing2Connect www.marketing2connect.com. We Make Marketing Easy.